One of the problems with the Maslow is the availability of parts and kits outside the US, if key things can be 3d printed and adjusted via a parametric CAD design to accommodate various hard parts (router diameters, linkage standoff heights, etc) then the resulting designs can be put on thingiverse, etc and people outside the US can order them locally.
This youtube channel is doing very interesting things with 3d printed parts. Here is a video on making a router lift, which could be pretty trivially adapted to a maslow sled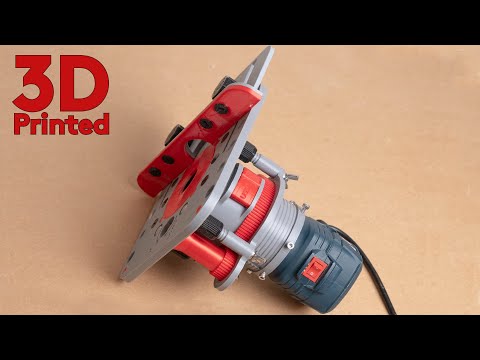 a few techniques that he is using that are interesting are the assembly from multiple parts, and the reinforcement of parts with internal bolts threaded in to the parts.
He also does parts for a 3 legged stool strong enough to sit on with some interesting joinery
Along similar lines, it may be possible to use a 3d printed cyclodial gearbox on a common bldc or dc motor (with encoder) for the main motors. This approach provides very low wear, compact size, and high gear ratios (if you are doing a compound cyclodial gear, it's hard to get a ratio under ~30:1 and one of the videos is of a ~900:1 gearbox)
I have a collection of videos on a playlist that are ones I've found interesting and marked for reference
I specifically want to call out the latest one that I added (as of the date of posting). This is an interesting variation in that the 'output' of the gearbox is fixed (which allows the bolts for the 'output' gears to be in double sheer, eliminating a significant source or flex), and the housing around the gears is what moves. With this sort of approach, you could 3d print groves in the outside of the housing and use a lighter weight steel line instead of the chain (trading off ease of finding, no slack side to manage and possibly additional stretch vs weight and sag)
Some of these gearboxes are designed specifically to be able to be backdriven, but that depends on the gear ratio involved. I've seen comments of them being backdrivable at 10:1 gear ratios, but with significantly higher gear ratios they do not backdrive.
It should also be fairly easy to design an encoder into the 3d printed part (being aware that many plastics do not block IR, so either a card sensor, magnetic sensors, or painting the plastic may be needed). For reference, the current maslow has ~8k steps per rotation for a 2.4" circumference gear, or a little over 3k steps inch. This could probably be cut down to 1-2k steps per inch without a noticeable impact to the machine accuracy. Adding a 'index' pulse would make setting it to a "12 o'clock" position completely automatic (if you use a chain that can be reset)
Unfortunately I don't have my 3d printer up and running yet, so I can't do much experimentation, but I wanted to post these links to give others some things to think about. (prompted by @bar commenting that he was working on a new version)